RQ#95 - Online
The links underlined below are active now - more will be added in coming weeks, so check back often!
Quarterly Contest - enter to win a Reclaiming CD in this quarter's "Winter Solstice" contest
Pagan Cluster actions, Grassroots Roundup, and much more
Water: An RQ Theme Section Feature Articles and Poetry
RQ Regular Departments
More links will be active through the Fall
Reclaiming Our History
Health and Healing
Reviews: Sabina Magliocco, Brook, Spiral Rhythms, David Solnit and more
Magical Practice
Urban Witchcraft
Readers add their voices
RQ Readers add comments, articles, poetry, and more
Click here for info on submitting articles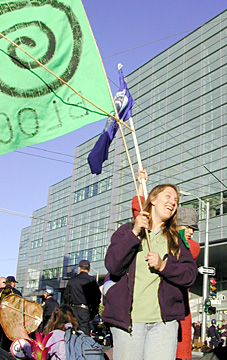 Thirst: a Documentary on Water
Is Water a Human Right or a Commodity?
Is water part of a shared "commons," a human right for all people? Or is it a commodity to be bought, sold, and traded in a global marketplace? Thirst tells the stories of communities in Bolivia, India, and the United States that are asking these fundamental questions.
Over a billion people lack access to safe drinking water. Each year, millions of children die of diseases caused by unsafe water. The numbers are increasing.
In Bolivia, we witness a full-scale insurrection against a water privatization contract with the U.S.-based Bechtel Corporation. In Stockton, California, residents create a grassroots coalition to oppose a proposal to give control of the water system to a consortium of global corporations. In India, a grassroots movement for water conservation has rejuvenated rivers, literally changing the desert landscape while opposing government efforts to sell water sources to companies like Coke and Pepsi.
Water activists from Bolivia, Stockton, and India all meet at the World Water Forum in Kyoto as part of a new movement against global water privatization. As the Forum reaches it final day, water issues build toward an explosive outcome.
Directors Alan Snitow and Deborah Kaufman see water as the leading battleground in conflicts over privatization. "Water is up for grabs in the U.S. for the first time in a century," says Snitow. "It's an issue of democracy. Who gets to decide?"
Thirst aired in July as part of PBS's "P.O.V." series. Visit www.thirstthemovie.org
---
ReclaimingQuarterly.org is a developing experiment -- give us your feedback! Write us at quarterly@reclaiming.org
Subscribe to our print edition! | Return to RQ's Home Page | Return to Issue #95 Home Page
Return to the top of this page