RQ#95 - Online
The links underlined below are active now - more will be added in coming weeks, so check back often!
Quarterly Contest - enter to win a Reclaiming CD in this quarter's "Winter Solstice" contest
Pagan Cluster actions, Grassroots Roundup, and much more
Water: An RQ Theme Section Feature Articles and Poetry
RQ Regular Departments
More links will be active through the Fall
Reclaiming Our History
Health and Healing
Reviews: Sabina Magliocco, Brook, Spiral Rhythms, David Solnit and more
Magical Practice
Urban Witchcraft
Readers add their voices
RQ Readers add comments, articles, poetry, and more
Click here for info on submitting articles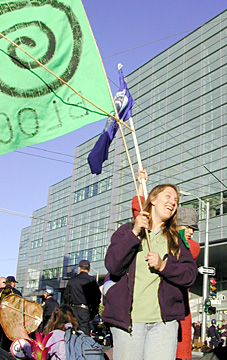 Water: An RQ theme section
Water.
Ninety percent of our body mass. Two-thirds of the earth's surface.
And yet a resource of rapidly-growing scarcity.
In this theme section, RQ examines water from a variety of angles - ecological, magical, political, spiritual, artistic...
Here are the articles for our Fall 2004 theme section. Some of these stories appear in our print edition. The beginnings of those stories are posted here, but to read the full versions, you'll need to either subscribe, or come back after the Winter issue comes out, and we'll post the entire contents of the Fall issue.
RQ's website and print editions are ongoing experiments, especially at this moment - send us your feedback on the website. Your input will help shape the site for future issues. Email RQ with your comments and suggestions.
Water: Fall 2004 theme section articles
Want to add your voice to the discussion about Water? Contact RQ!
---
ReclaimingQuarterly.org is a developing experiment -- give us your feedback! Write us at quarterly@reclaiming.org
Subscribe to our print edition! | Return to RQ's Home Page | Return to Issue #95 Home Page
Return to the top of this page