RQ#95 - Online
The links underlined below are active now - more will be added in coming weeks, so check back often!
Quarterly Contest - enter to win a Reclaiming CD in this quarter's "Winter Solstice" contest
Pagan Cluster actions, Grassroots Roundup, and much more
Water: An RQ Theme Section Feature Articles and Poetry
RQ Regular Departments
More links will be active through the Fall
Reclaiming Our History
Health and Healing
Reviews: Sabina Magliocco, Brook, Spiral Rhythms, David Solnit and more
Magical Practice
Urban Witchcraft
Readers add their voices
RQ Readers add comments, articles, poetry, and more
Click here for info on submitting articles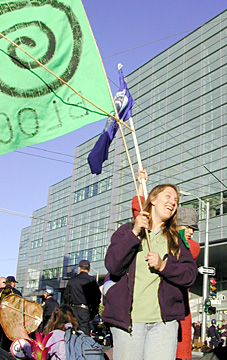 More about Maui Witchcamp in the Revolutionary Pagan Workers Vanguard!
---
The Kitchen Witch
Maui Witchcamp Mahalo Pudding
by lily
The arrival of Autumn and the chilly weather that soon follows makes many of us wistfully remember balmy summer days. I often find myself reminiscing about the brilliantly colored long sunsets at Maui Witchcamp. (If you've never been, you really should go. It's amazing!) As we gathered at the oceanside for our community dinners after a long day in Volcano (Fire) path, we would soak in the sun's warmth from the setting rays. We prepared ourselves to keep our bodies warm in the cool months ahead, not to mention getting a bit of a tan. Then, for an after-dinner treat before the Pele ritual we would snack on fresh island fruit, and a delicious sweet potato and pineapple dessert that we named Mahalo Pudding. Mahalo is a Hawaiian word used to express gratitude, and when a bowl full of this pudding was handed to a camper, that act was always acknowledged with a hearty "Mahalo!"
Since autumn is a time of gratitude and turning within, Mahalo Pudding seems the perfect treat. The energy of a plant returns to the root in Autumn, in preparation for the slowing time of Winter; our bodies do the same. Sweet potatoes, in addition to being grounding and delicious, are full of beta-carotene and vitamins. Celebrate these cool Autumn days with a warm bowl of pudding, and dreams of next year's Maui Witchcamp. Mahalo!
Mahalo Pudding
3 large sweet potatoes (4-5 lbs. total)
1/2 cup milk or soymilk
1/2 tsp. nutmeg
1/2 tsp. ginger
1/2 tsp. vanilla extract
1/3 cup + 2 Tbsp. brown sugar or Sucanat
8 oz. crushed pineapple (drained if packed in juice)
1. Preheat oven to 350 degrees. Spray a 13x9 pan with cooking spray and set aside.
2. In a large saucepan bring 6 to 8 cups of water to a boil.
3. Peel sweet potatoes and cut them into 1î slices. Drop them into the pot of boiling water and boil for 25-30 minutes, until sweet potatoes are soft. Drain water from the pot.
4. Add the rest of the ingredients, except for the 2 Tbsp. of sugar and the pineapple. Mash thoroughly until blended and fluffy.
5. As you fold in the pineapple to the sweet potato mixture, it's time for a spell:
With Autumn's harvest coming in,
In gratitude we turn within.
Ground and nourish our bodies deep
With a rememberance of Summer's sweet.
6. Spread the mixture evenly into the 13x9 pan and sprinkle the remaining 2 Tbsp. sugar on top. Bake for 20-25 minutes, until the sugar topping is melted.
7. Serve hot and enjoy! May you never hunger.
---
ReclaimingQuarterly.org is a developing experiment -- give us your feedback! Write us at quarterly@reclaiming.org
Subscribe to our print edition! | Return to RQ's Home Page | Return to Issue #95 Home Page
Return to the top of this page