RQ#95 - Online
The links underlined below are active now - more will be added in coming weeks, so check back often!
Quarterly Contest - enter to win a Reclaiming CD in this quarter's "Winter Solstice" contest
Pagan Cluster actions, Grassroots Roundup, and much more
Water: An RQ Theme Section Feature Articles and Poetry
RQ Regular Departments
More links will be active through the Fall
Reclaiming Our History
Health and Healing
Reviews: Sabina Magliocco, Brook, Spiral Rhythms, David Solnit and more
Magical Practice
Urban Witchcraft
Readers add their voices
RQ Readers add comments, articles, poetry, and more
Click here for info on submitting articles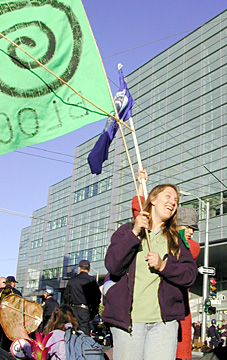 Return to the main Regional news page for Fall 2004
Return to the Home Page for Fall 2004
The next Winter Witchcamp is February 17-21, 2004
For more information, Contact Winter Witchcamp
---
Come and Live in the Mystery
Winter Witchcamp in Minnesota
by Paul Eaves and Teri Parsley Starnes
Winter Camp took place nestled in a pocket valley of Whitewater State Park in the bluff country of SE Minnesota over Valentine's weekend. Temps were in the teens at night. The nights were especially enchanting as we wended our way through a candle-lit snow labyrinth beneath starry skies, serenaded by crooning owls. A special intimacy was created by the winter beauty. By the end of our four days of magic we had developed relationships of co-creation with Mystery as well as within our human community.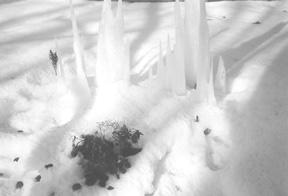 This year at Winter Camp we worked with the Norse story called Loki's Children and the Binding of Fenrir. An ancient seer has told Odin, the High King, that his doom will be upon him when the wolf Fenrir is loosed. Odin enlists the gods to save their world, Asgard, by binding Fenrir, the wolf. It is a story of friendship, oaths, and betrayal. No-win choices and what one would sacrifice in order to preserve the worlds as they know it. We called on Odin, Tyr, Fenrir and the Norns to guide us through this story. Their wisdom and presence was evident as we explored our own choices and obligations. Are choices as simple as this or that, or are there other choices that may lead us down an unknown path?
As this camp progressed we utilized a new model for community co-creation that is being developed by the Diana's Grove Mystery School, located in Missouri (www.dianasgrove.com). Four members of the teaching team had been trained at Diana's Grove so we took the opportunity to experiment with that style of co-creation in a Reclaiming Witchcamp experience.
To begin the work, the teaching team created a co-creation statement of intent. It read: "Our intention for Co-creation at Winter Camp is to foster collaborative efforts between organizers, teachers, campers, and the many realms to work the magic of camp. We intend, with the help of this community, to make the covert overt - to acknowledge the archetypal power of 'Teacher' and empower personal authority, to demystify the process of creating and facilitating ritual, to be inclusive and thus make accessible to all - the magic of community. Co-creation entails acknowledging that we all are and have always been co-creators. We invite each member of this community to bring awareness, transparency, and intention into the ritual of these four days. To weave today what we choose for the future. So mote it be."
During the camp orientation we outlined our process of co-creation and followed through on it during camp. Each night, affinity groups invoked sacred space, by planning and enacting one part of the invocations. Each evening, before dinner, the whole camp community reviewed the intention for the night's ritual. The teaching team presented the intention. In a focused conversation of no more than 15 minutes, the community fine-tuned our group intention.
We also invited folks who were interested in co-creating a ritual for the third night to join us for afternoon Tea Times. In order to facilitate this co-creation with planning, enacting, and feedback afterwards, we asked for a commitment to attend all 3 Tea Times. At the first Tea Time we divided into three groups - those called to storytelling, those called to trance, or those called to energy work. A pair of teachers facilitated each group. They were given the ritual intention and aspect of the story we wanted to explore for the 3rd night's ritual. At the first meeting, each group planned how it would ritualize the intent within their area of the ritual. We made plans and assigned roles. The teachers were responsible for supporting the campers who chose to be part of the co-created ritual and were responsible for communicating between the groups so that transitions and flow went smoothly. At the second afternoon's Tea Time, we finalized plans for that evening ritual. And then we had the ritual. It was amazing and the post-ritual enthusiasm that emanated from that ritual bonded and deepened our camp community. The final Tea Time was an important time to connect with each other again after co-creating the ritual. We gave and received feedback about the process and the ritual.
We also reflected upon what we were happy about and what we would do differently and celebrated each other's courage and creativity. The magic of co-created, or collaborative ritual is not something new to Reclaiming, But this level of attention to facilitating it and opening it up to this level is perhaps new, a growing edge.
Opening to relationship with Mystery is another aspect of co-creation. This also occurred in unanticipated ways at Winter Camp. The story we were working with did not include the goddess Freya, yet over and over Freya spoke to members of the community in dreams, whispering voices, and hooting owls. Freya insisted in very polite tones that she wanted to be heard at the final night's ritual. Freya's powerful presence was embodied in one of the campers who strode about the darkened ritual space and spoke:
"I am Freya, the Viking goddess of love, one of the few survivors of Ragnarok, the apocalyptic battle between the gods and their enemies.
"I lived in the Mystery of the story and that was how I survived. I lived in the Mystery, that deep dark place, and I found that Mystery was where all the possibilities meet. In the Mystery that surrounds everything there are infinite possibilities. Come, live in the Mystery, and you can listen for them.
"Ecstasy is within myself, within my journey. I hope you may know deep Ecstasy in this life, and that whatever pain you encounter will cycle through you and then on to other places where it may know transformation."
Loki also made a guest appearance. After all it was Loki's child that was a main impetus for the story. Loki was very gracious as he honored the campers, challenged them to celebrate their human bodies and asked to be called the prince of hard truths rather than the prince of lies.
Remembering Winter Witchcamp in the blooming spring, we are struck by the multi-layered nature of co-creation. On one level it involves an open process that fosters the wide-scale participation of campers. As the participation broadened, it also deepened the magic of camp by engaging the interest and participation of mysterious ones such as Freya and Loki. Co-creation is an integral part of the Winter Witchcamp culture. If you long for a magical mystery tour in a beauteous winter environment, join us next year in the snowy, chilly wonderland of Winter Witchcamp.
Like this feature? Please subscribe or donate now - it's just a click away!
---
ReclaimingQuarterly.org is a developing experiment -- give us your feedback! Write us at quarterly@reclaiming.org
Subscribe to our print edition! | Return to RQ's Home Page | Return to Issue #95 Home Page
Return to the top of this page