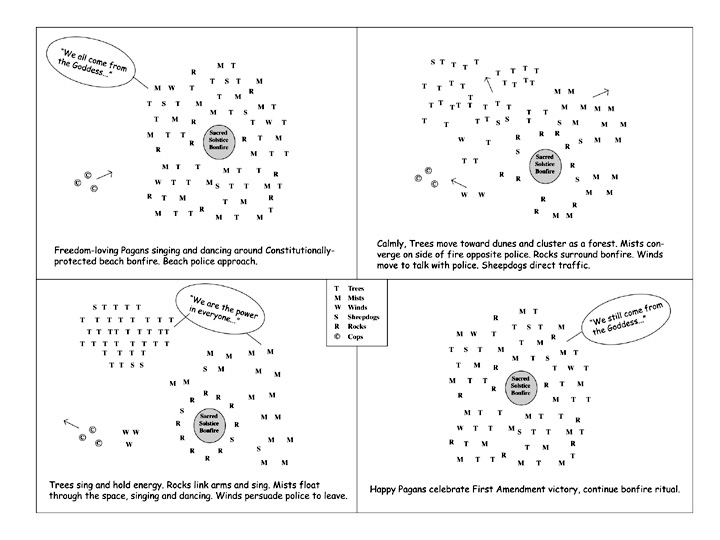 Defending the Solstice Bonfire
Bonfire - Latest Updates
Police Quash Summer 06 Bonfire
Letter to Park Service
Letters of Support
Click diagram for outline of our bonfire plans
---
A Letter to the Park Service
Ritual planners announce Solstice Bonfire at traditional site
After the 2006 Summer Solstice bonfire was extinguished by Park Service police, local Reclaiming folks met to organize a nonviolent response for our Winter ritual. As there is no permit process for the new "no fires" part of the beach, ritual planners elected to send a letter notifying the authorities of our intent to hold the ritual at our traditional location.
Date: December 13, 2006
From: San Francisco Reclaiming Ritual Planning Cell
To: Brian O'Neil / Golden Gate National Recreation Area
Dear Mr. O'Neil and the Golden Gate National Recreation Area Staff:
We would like to introduce ourselves. We are the Reclaiming Ritual Planning group, and we are a part of Reclaiming, a spiritual tradition in this area for almost 30 years, and a growing international tradition. We are environmentalists with an earth-based spirituality ÷ our environment is sacred to us, part of the Great Mother. We are non-violent, a family group, and our events are drug and alcohol free.
Members of our group attended several public hearings in 2003-2004, and like most others spoke in favor of education and enforcement of existing laws, and against a bonfire ban.
We have been holding our Summer and Winter Solstice rituals, which involve a fire for warmth, focus, and spiritual meaning, at a southern stretch of Ocean Beach for over 20 years. It is very significant for us to return, year after year, to the same place. We always clean up after ourselves, and our rituals are quiet although they involve song and acoustic instruments. We have done internal education and distributed fliers about fire safety (i.e., burning clean wood, dousing fire, etc.) We never burn pallets, treated wood, or other inappropriate materials.
The Winter Solstice is a sacred ceremony involving the cleansing and transforming power of ocean and fire . The ceremony lasts until the last people at the ritual extinguish the fire. Part of our reason for being down near Taraval is a desire not to impact other beach users.
Because there is no permit policy, we are writing to inform you of our intention and purpose to build our fire this Winter Solstice, as usual. Reclaiming supports the GGNRAÔs work of making the beaches safe, beautiful, and ecologically healthy. We think it is important that the GGNRA have the funding necessary to do this work of taking care of the beaches and their public use, and we hope to support that process. We want to work together with the GGNRA for safe, clean beaches. We imagine that the GGNRA would prefer a different solution than an unpopular, hard to enforce beachfire ban. Such a ban might cost the GGNRA in support from the public on other issues.
The beach near Taraval, on Summer and Winter Solstices, is our temple from many yearsÔ use and tradition. We have a traditional and First Amendment right to gather on the beach ÷ it is the largest and safest open space in San Francisco. We look forward to an undisturbed ceremony. If authorities attempt to prevent our celebration, we are also preparing a nonviolent response.
If you would like to discuss these matters, please contact Gweneth Dietrich.
In trust,
Gweneth Dietrich
Nancy Harris
Nolan Hinshaw
Toni Savage
Julie Dodd Tetzlaff
George Franklin
Ewa Litauer
April Cotte
Rosa DeAnda
Rachel Morgain
(Members of San Francisco Reclaiming Ritual Planning Cell)
Note - Bay Area Reclaiming rituals are organized by volunteer planning cells. These groups consist of around 5-15 people. If you have taken Reclaiming core classes and/or attended Witchcamp and been active in Reclaiming for at least a year and a day, you can help with Reclaimng rituals.
For San Francisco rituals, contact SFRPC@yahoogroups.com.
For other areas, contact RQ.
Contents of this page (c)2012 by RQ. Please do not copy, reproduce, fold, spindle, mutilate, or otherwise use them without written permission. Thanks!
---