Chants for Rituals and Classes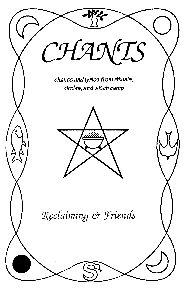 Assembled by RQ
Here are recordings of chants we use in classes, rituals, and Witchcamps.
This is not a compendium of every chant ever sung, but those that seem to have lasted a few years and traveled beyond their original community. We are happy to hear suggestions for additions - see contact below.
Some are available as polished recordings on Reclaiming's CDs (the links below are short excerpts). Others are produced in home studios. Still others were surreptitiously recorded at the Aleister Crowley Memorial Incantatory Campfire Choir's annual luncheon.
Some of these are very rough recordings, and are offered as "provocatory" postings - in hopes that others are inspired to say, "Surely I can do better than that!"
When you do, send them our way. Until then, here's a chance for others to learn the chants. So mote it be.
You can download these songs to your computer by doing a save-as from your web browser.
Order Reclaiming CDs from this website - or get digital downloads at iTunes, CDBaby, etc.
Witchcamp Chantbook - click here for lyrics to chants
Questions, suggestions, feedback, complaints, harmonies, etc - email RQ
---
Elements Chants
Many of the chants listed under a particular element can also be used in other ways - Born of Water could be used for a purification,
or We Are the Rising Sun for a spiral dance, etc.

Invoking All the Elements