Page below still active and useful - but our new site has lots more playlists,
including this Elements Playlist
---
Chants for Rituals and Classes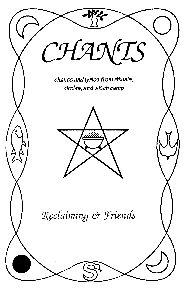 Assembled by RQ
Here are recordings of chants we use in classes, rituals, and Witchcamps.
This is not a compendium of every wonderful chant ever sung, but those that seem to have lasted a few years and are used repeatedly in Reclaiming classes, camps, and rituals. Suggestions are welcome - see email contact below.
Many are available on Reclaiming's CDs (see links below). Others are produced in home studios. Still others were surreptitiously recorded at the Aleister Crowley Memorial Incantatory Campfire Choir's annual awards luncheon.
Witchcamp Chantbook - click here for lyrics to chants
Questions, suggestions, feedback, complaints, harmonies, etc - email RQ
---
Elements Chants
Many of the chants listed under a particular element can also be used in other ways - Born of Water could be used for a purification, or We Are the Rising Sun for a spiral dance, etc.

Invoking All the Elements