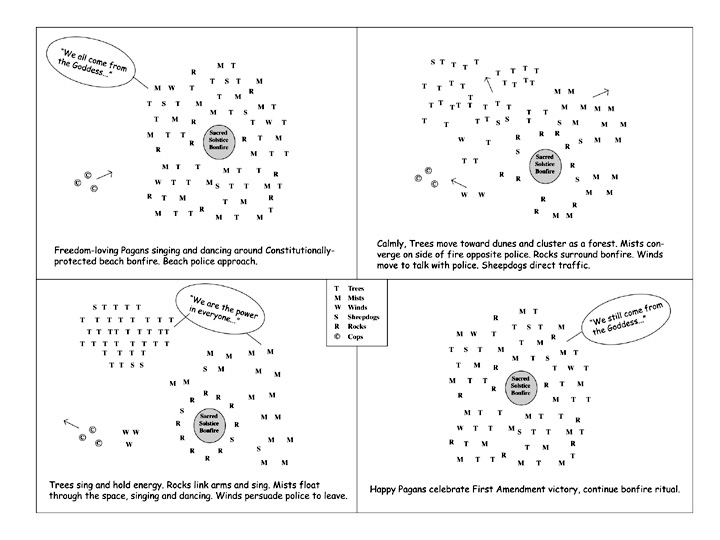 Defending the Solstice Bonfire
Bonfire - Latest Updates
Police Quash Summer 06 Bonfire
Letter to Park Service
Letters of Support
Click diagram for outline of our bonfire plans
---
Defending the Solstice Bonfires
by George Franklin - Photo by Otter, prior to a Solstice ritual
GGNRA Beach Rangers returned after a several-year hiatus to our Summer Solstcie 2013 San Francisco Ocean Beach ritual - a thirty-year tradition - and declared the beach off-limits to fires.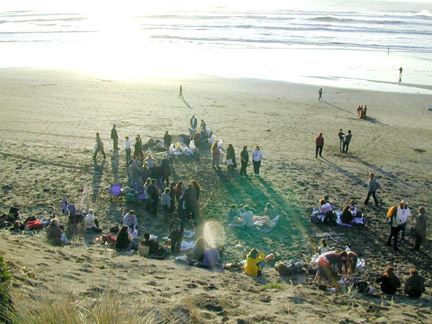 After heated discussion, ritual-goers decided not to attempt to light a fire. The ritual was stil held, without a fire.
A community forum is planned for later this Fall to discuss options. Circles and affinity groups are also encouraged to discuss their responses.
One possible plan will be to do more than one ritual - one at the permitted fire stations near Golden Gate Park, and another (probably at a different time) at the traditional site with a constitutionally-protected beach bonfire.
Come back after Samhain for an update, or contact sfrpc@yahoogroups.com.
---
Summer 2006 - Bonfire Quashed by GGNRA Rangers
June 24, 2006 - Here's a brief report on events following the San Francisco Solstice ritual on June 21, 2006.
Despite rumors to the contrary, the Golden Gate National Recreation Area (GGNRA) is still attempting to enforce a partial bonfire ban, restricting fires to the area of the beach facing Golden Gate Park (Fulton to Lincoln). This leaves our longtime Taraval Street location in the "no fire"zone. But due to confusion over the policy (little signage, public education, etc), I didn't expect them to try to enforce it this year.
We finished the bonfire ritual around 9pm, with no police presence. Around 9:30 (approx), two officers who identified themselves as "federal police" arrived and told the remaining 60-80 people that we had to extinguish the fire, and that if we did not, they would come back and extinguish it and "drive us off the beach".
Our response was a bit of speechifying about the first amendment, and to point out that there were 80 of us and two of them. They left and harassed a smaller nearby fire for a while.
Around 9:45, three police returned with a shovel and immediately began shoveling sand on our fire. By this time, a number of people, including almost all parents and kids, had left (some because of fear that arrests might occur). We again informed the police of the meaning of the first amendment, and pointed out that burying a bonfire is a mistake, since it keeps the coals hot for joggers to step in the next day.
The police then told us (30-40 people) that we had to immediately disperse, or we would be subject to arrest. A number of us had already agreed not to disperse, and we resumed our lectures on constitutional law. There were still only 3 police, but we later learned there were a half-dozen patrol cars up on the Great Highway. I don't know what police force the cars were from -- SF Police are not supposed to patrol the beach, which is federal land, unless the feds specifically request support.
Calmer people managed to prevail on our uniformed visitors to go away for a while, saying that we would probably disperse in an hour or so, anyway. The police left, and we stayed a while longer, talking it over. By this time there were 12-15 people. We cleaned up the area and left with no further incident that I know of.
The police were clearly implementing orders from above, and I have no doubt that they and their superiors knew we were holding a spiritual event. Whether they deliberately waited till it was over, or that was just coincidence, I don't know.
The upshot -- we can relocate our rituals, or we can start organizing now for Winter Solstice. Because the beach police will be back, and they'll have reinforcements.
I believe this is a completely winnable issue -- not just our own religious rights, but the first amendment right to assemble on "the commons" -- which in SF means the beach. The rights we are exercising are not religious -- they are basic civil rights of all people. I want to work for this broad right, not just our narrow religious right. I think we'll find allies, and possibly can persuade some of the SF Supes to take a stand with us.
That's my thoughts. I'm interested to hear from others, and to start planning for December's Solstice ritual.
Post comments to Reclaiming elists, or email your thoughts to quarterly@reclaiming.org
Contents of this page ©2012 by RQ. Please do not copy, reproduce, fold, spindle, mutilate, or otherwise use them without written permission. Thanks!
---