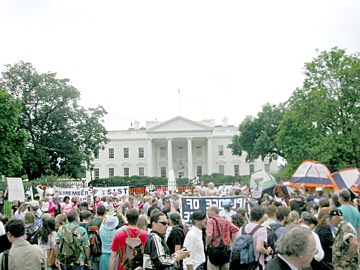 DC Mobilization Features
---
Pagan Cluster Joins Protest in DC
Targets Iraq war, social injustice, and the G8/IMF/World Bank
Introduction
In late September, Pagan Cluster activists joined thousands of others in the streets of Washington DC to speakout against a wide range of government policies and institutions, including the Iraq war the G8, the IMF and World Bank, and social injustice at home and abroad.
Part of the work of the Pagan Cluster was to call to the ancestors who have died as a direct result of the policies of greed: our fallen soldiers, the Iraqi dead, casualties of economic globalization, and Hurricane Katrina victims. The cluster called to the ancestors to join us in our spells demanding justice and compassion instead of greed. Click here to read the Pagan Cluster Call to Action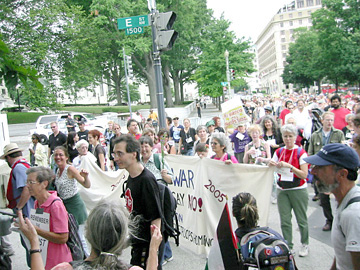 As is increasingly common, people at the action and doing home support stayed in touch via email. What follows is a selection of communiques sent during the mobilization, offering an evolving picture of the weekend's action.
To be part of Pagan Cluster organizing across North America and Europe, join the Living River email list. Send an email to LivRiv-subscribe@yahoogroups.com with "subscribe" in the subject line.
---
Saturday, September 24
Date: Sat, 24 Sep 2005
Subject: [LivRiv] Pagan Cluster, DC, Sunday September 25
Hey You Pagans,
Here are the Cluster's plans for Sunday, September 25 in Washington, DC.
1. A small contingent from the Cluster will be working as a "flying squad" in support of the Adopt-an-Intersection action around the World Bank early in the morning. As of now, the plan is to gather at the Cluster hostel at 7 am, pending information from the Spokes Council. Hostel International-DC, 1009 11th St. NW.
2. We will gather at 10 am at the Washington Monument to do some magic concerning the IMF/World Bank. Be prepared to change your consciousness at will!
3. From 3 to 4:30 pm, there will be an "scenario orientation" in a tent on the National Mall for those participating in the mass civil disobedience at the White House on Monday. Our best information right now is that it will happen in the Clergy and Laity Concerned tent. For more information, see www.unitedforpeace.org.
4. We will participate in Connect DC's Fall Equinox ritual. Gather at 4:30 pm, ritual at 5 pm. Gather at the National Mall near the Smithsonian Metro Station (Orange/Blue Lines).
xo
Marcos
Sun, 25 Sep 2005
Subject: [LivRiv] Saturday in DC
Things went well. I think we had around 2-30 of us in DC. The cops were chill and not a ton of them.
We gathered at Dupont Circle, grounded, cast, and invoked our allies. We did an unpermitted march with the Rhythm Workers Union and black block folks to the IMF/World Bank buildings, then joined the rest of the march. We took a few breaks, laying in parks, etc. We ended the main part of the day with a spiral on the mall and a few songs. I left right after that, as folks were starting a meeting about today's work.
Love, Zoe
Date: Mon, 26 Sep 2005
Subject: [LivRiv] DC monday
Greetings living river,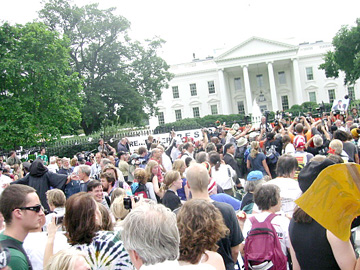 The DC mobilization continues today with a civil disobedience action at the White House. The magic continues. Yesterday morning we gathered at the Washington Monument (in a glorious grove just south of it) to spend time together in circle to connect, to explore, to gather our resources replenish our energy and continue... We worked heart opening magic and healing and offered this to Earth and to the human face of her suffering. We continued out of the grove and spun the energy down the mall through the WWII monument, along the reflecting pool to the Lincoln monument and the Viet Nam Veterans memorial ending at the reflecting pool. Our intention seems always to be about opening hearts to truth/life/spirit to find a key to unlock the spell that is so dramatically embodied in the monuments of this city.
There are several pagan cluster folks who will be participating in the White House action with the intention of getting arrested. (This will begin around noon to allow time for those who have appointments to lobby their representatives.) If you want to join us, we will be at 15th and E (the ellipse) at 11:00. The rest of us will be supporting the action and providing support to those arrested until they are released. There have been 40 arrests already this morning in the Pentagon in an intentionally small action to block employees from getting to their work. We send out our thread to you, gathering us into circle.
blessings and love,
Ruby
***********
Date: Mon, 26 Sep 2005
Subject: [LivRiv] DC Action Update: Monday noon
I just got a call from Ruby. the action today is at the White House. She reported some 1000 people are there now (about 1230p), energy is high, and people are getting ready to do some civil disobedience. They are expecting 4-6 people in the pagan cluster to engage in the CD. I could hardly hear her for the shouting and cheering in the background.
More as it happens, love, Mareena
***********
Date: Mon, 26 Sep 2005
Subject: [LivRiv] DC Action update: 130pm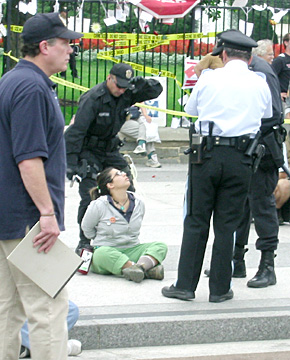 Ruby reports that the paddy wagons have been brought in and it appears that about 500 people are being arrested, including 8 pagans. About 500 other people are witnessing. Energy is still high, it continues to be hard to hear what she is saying because of the noise. She tells me she will give me the names of the arrestees in later update.
More as it happens, love, Mareena
***************
Date: Mon, 26 Sep 2005
Subject: [LivRiv] DC ACtion update 245pm: 8 pc members arrested
Update from Casey - 8 pagan clustermembers have been arrested: Lev, Lisa, Sue, Marcos, Christina, Ben, Betsy, and Jim. Everyone is on buses, the police are confiscating shoelaces, glasses, and other personal items, cuffing, and are taking people's pictures. The crowd is cheering people on every time someone gets into the van. There's drumming, a party atmosphere with support for people getting arrested. "Very cool to see." The arrestees are being taken to the Anacostia police station and are supposed to be able to "Post and Forfeit" which means they essentially plead guilty, show their id, post $50, and then are released. The remainder of the pagan cluster (about 10 people) are going to take the Metro to Anacostia so that they can be there to receive people when they are released. The expectation is that the process will take about 3 hours.
More as it happens, Love, Mareena
Date: Tue, 27 Sep 2005
Subject: [LivRiv] Pagan Cluster people out of jail
I woke a sleepy Emily this morning at 7:30 a.m. who said that everyone from Pagan Cluster was out of jail by 4 to 5 a.m. this morning.
Thanks for your prayers.
Blessings,
Juniper
**********
Date: Tue, 27 Sep 2005
Subject: [LivRiv] Pagan Cluster people out of jail
Dear friends,
Out of the lock-up in D.C. and still operating on too-little sleep, I want to thank all who did excellent loving support on the ground and those who were magically supporting from far and wide. It was, all in all, a great event. The Post is reporting 370 arrests at the White House and 40-odd at the Pentagon. Ten of the people who were arrested at the Pentagon in the morning came back and got arrested with us at 1600 Pennsylvania Ave in the afternoon. I hope and believe that this is just the latest surge in the growing storm of anger and grief that will finally end the war.
If a demonstration happens in D.C. (or NYC or San Francisco or Burlington...) and the news media yawn and scratch and give it three lines in the Style section, should we be discouraged? The events yesterday at the White House and elsewhere had value and echoes in many directions. There were the spotlighted moments: big name leaders arrested, hundreds pulled away from the White House fence. But also all the ripples that few people see: the important changes that happen for the demonstrators arrested for the first time and freshly educated about the nature of power and priorities in this country; singing "We are rising up like a phoenix from the fire" with a diverse group of men on the prison bus, hammering out wild rhythms with plastic handcuffs on various parts of the bus's interior; kidding the booking sergeant about how much carbon paper they used to process us and having him reply "Yeah, I think a certain company that ripped us off in the war and the hurricane might make carbon paper too"; watching the webs get woven among the men and women who find themselves together in the confusing, boring, unique hours or days of being in jail, tending to each other's fears and sore shoulders and urgent need to talk about it all. It demands a huge outlay of energy to organize and stage and support these demonstrations but I believe that, meager media coverage notwithstanding, it's still worth it for all the ripples it sends out in this big pond we live in.
Speaking of energy outlay, I want us to send special soothing and caring and love to Lisa who I have watched over the last couple months in her amazing efforts to hold together the coalitions of Camp Casey, launch the RVs of the Bring Them Home Now Tour across the country and keep them moving, then tirelessly support "her people", the military families and vets for peace, on the streets and in jail in D.C. Whether she asks for it or not, this incredible, beautiful woman needs our holding and support as she moves through the next few weeks.
Love to all,
Lev
**********
Date: Tue, 27 Sep 2005
Subject: Re: [LivRiv] networking in jail yesterday
To all who were arrested yesterday -- Thank you for doing what you are doing! I wish I could have been there with you in person! Happy that all are well and still the spirit rises!
Liz
---
Photos ©2005 by pablito/RQ. Please do not copy, reproduce, fold, spindle, mutilate, or otherwise use them without written permission. Thanks!
---