Our new all-devices website!
Visit RQ at our new wix-based, all-devices website. Same great RQ content, now viewable on phones, tablets, etc.
This site (ReclaimingQuarterly.org) is still fully functional, but is no longer being updated.
Visit us at WeaveAndSpin.org!
---

playlists, streaming and downloads
Links to free listening
at youtube, google, spotify, and more!
---
Favorite RQ Features
Older Features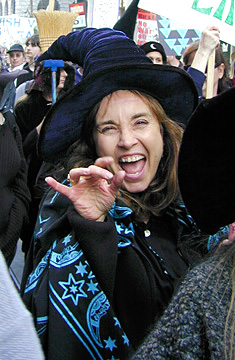 ---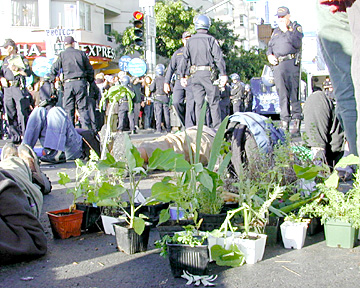 Garden Lockdown Photos
---
Page 2 - Mists, Rocks, and Faeries
Garden Lockdown at BIO 2004
Photos by Luke Hauser, ©2004 by RQ
Police prevented the lockdown circle from completing its cuircuit, but Green Bloc and Pagan Cluster activists held their ground in the intersection of Fourth and Howard, outside the entrance to Moscone Convention Center.
The direct action was part of the Reclaim the Commons convergence, which included garden projects, a colorful giveaway festival in the center of the downtown shopping district (the Really, Really Free Market), and several days of street actions opposing the BIO 2004 biotech industry convention. For more information, visit www.reclaimthecommons.net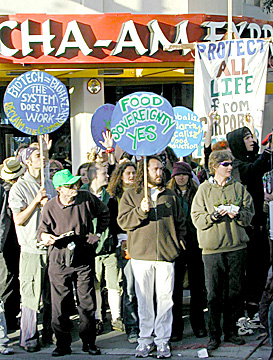 "Mists" and other supporters yell encouragement to the lock-down.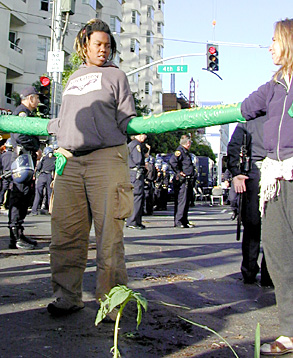 "Rocks" lockdown in the intersection of Fourth and Howard, outside the BIO 2004 corporate convention.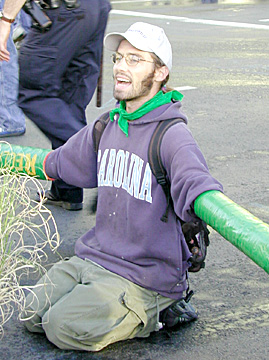 The lockdown alternated between standing, sitting or kneeling, and lying down.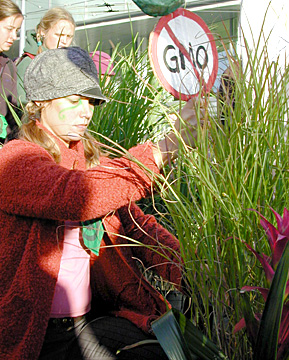 Tending the garden in the center of the lockdown.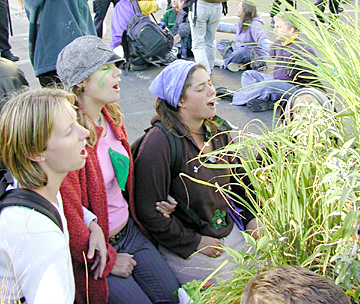 "Faeries" in the center of the circle take a break from tending to sing a song.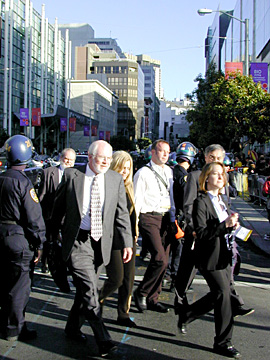 Police escort embarrassed delegates past the lockdown.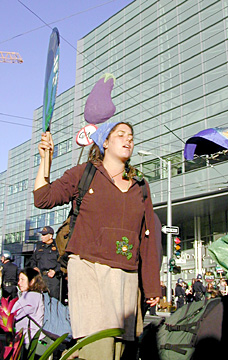 "We are the change, we are the ones we've been waiting for..."

Luke Hauser
is a freelance parajournalist in the service of the Goddess and planetary revolution. His photo-filled book Direct Action is an historical novel about Bay Area protests.
Photos ©2004 by RQ. Please do not copy, reproduce, fold, spindle, mutilate, or otherwise use them without written permission. Thanks!
To contact the Pagan Cluster or Green Bloc, email Reclaiming Quarterly, quarterly@reclaiming.org
---