Our new all-devices website!
Visit RQ at our new wix-based, all-devices website. Same great RQ content, now viewable on phones, tablets, etc.
This site (ReclaimingQuarterly.org) is still fully functional, but is no longer being updated.
Visit us at WeaveAndSpin.org!
---

playlists, streaming and downloads
Links to free listening
at youtube, google, spotify, and more!
---
Favorite RQ Features
Older Features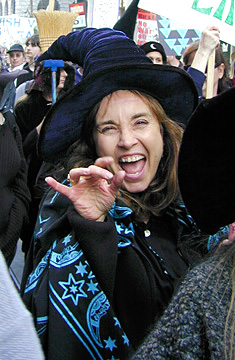 ---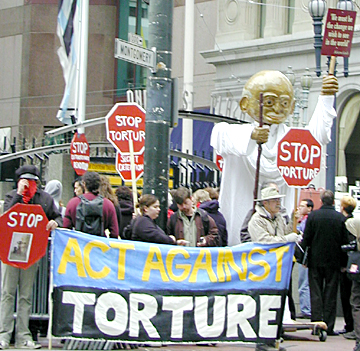 Act Against Torture
---
San Francisco action marks Iraq War anniversary
Act Against Torture
In past print and online issues, RQ has worked to educate ourselves and our community about the atrocious situation at Guantanamo prison camp. On March 20, 2006, the third anniversary of the Iraq war, several hundred protesters, including people from Bay Area Reclaiming groups, took part in one of the first large public protests of the U.S. government's practice of torture at Guantanamo and elsewhere.
On Monday, March 20, Act Against Torture organized a "visual takeover" of a central San Francisco intersection, outside U.S. Senator Diane Feinstein's local office.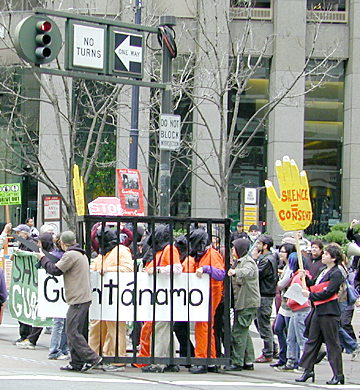 The action called for and end to the U.S. government's practices of torture and indefinite detention, at Guantanamo, in Iraq, and around the world. About a dozen protesters were arrested as part of theatrical civil disobedience actions, and several hundred more people supported them with signs, costumes, props and music.
A Note from action organizers
Plans for the March 20 action evolved out of an ongoing dialogue about how to build an anti-war movement that is inclusive, radical, strategic, and effective.
In the past couple of years, many progressives in the Bay Area have stopped actively opposing the war. Many people we've talked to feel powerless to fight the Bush administration.
Through this action and others beyond it, we intend to remind our community that the war hasn't ended. The U.S. government continues as a matter of policy to violate moral and legal principles fundamental to all who value justice and equality. People are trapped and dying in parts of the world where the U.S. has undermined or destabilized infrastructure necessary to safety, health, progress, and democracy; and all this is likely to continue until we can realize an effective strategy for resisting it.
By planning this action for the anniversary of the shutdown of downtown San Francisco on the day after the U.S. began its invasion of Iraq, we also mean to remind people of our power to disrupt the war and the culture of passivity that allowed it to begin and allows it to continue. The Bush administration and the occupation of Iraq are no longer "untouchable." We absolutely have the power to end practices of torture and indefinite detention - and the occupation itself - if we can resist the powerful urge to tune it out.
For more information, visit www.ActAgainstTorture.org.
Or email ActAgainstTorture@riseup.net
---
Act Against Torture protest photos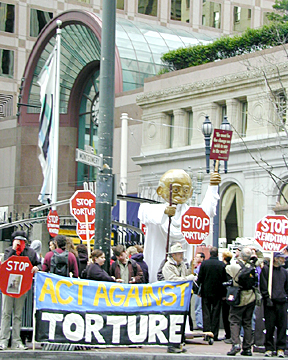 Several hundred protesters gathered at dawn to greet downtown workers with their message. The March 20 event, marking the anniversary of the Iraq War, was one of the first public demonstrations against U.S. torture policies.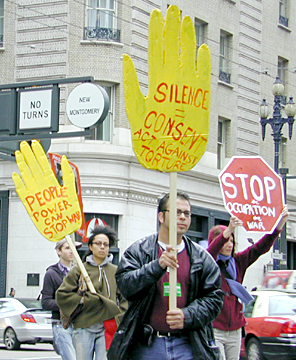 Sign-bearing protesters paraded across downtown intersections...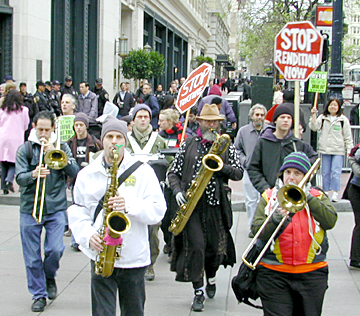 ...accompanied by the Brass Liberation Orchestra, a fixture at Bay Area protests.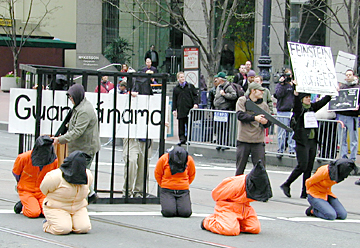 A striking theater action highlighted torture and indefinite detention at the U.S.-run Guantanamo prison camp, where some of the worst abuses have surfaced.
More photos of this action are posted on the next page.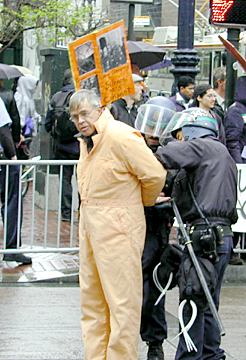 About a dozen protesters were arrested for blocking intersections during the theater action.
Photos continue on the next page
---
Luke Hauser
is a freelance parajournalist in the service of the Goddess and planetary revolution. His photo-filled book Direct Action is an historical novel about Bay Area protests.
Photos ©2006 by RQ. Please do not copy, reproduce, fold, spindle, mutilate, or otherwise use them without written permission. Thanks!
---