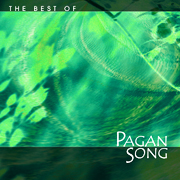 RQ Music Reviews
Want to submit a review? Email us!
Featured Reviews
in alphabetical order by artist
Reviews appear below in blog-order, the most recent first.
---
Recent releases
Thumbnail reviews by Francis Arouet - December 2005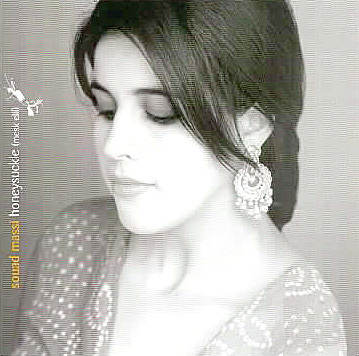 Souad Massi Honeysuckle. Third CD by the Algerian-born pop singer reworks the same territory as her first two releases: half Arabic/Mediterranean folk, half Westernized pop. As you might guess, half works, half doesn't. Luckily, Souad has the taste to group similar songs together on the CD, so it sparkles for ten minutes at a time. Well worth a listen, but I'd recommend her earlier releases, "Deb" or "Raoui."
Jeanne Mackey Home to the River of Love. Short, catchy chants and songs for rituals and classes, recorded live. Some of the songs have a gospel singalong feel. Others are well-known Pagan chants. A good CD to learn some new songs for your circle or classes. Click here for samples and more info.
Steven Posch Radio Raganistan. From the snowbound heartland of Paganistan (otherwise known as Minnesota) comes this Earth-based rival to Garrison Keillor. This would be a good CD for a road trip, when you wish there was something good on the radio, but all you can find is other religions. A highlight is the holiday song, "Mother Berhta's Coming to Town." Stories include "The Bride of the Forest " (the Brothers Grimm meet the Rite of Spring, in the Great North Woods). Visit www.stevenposch.com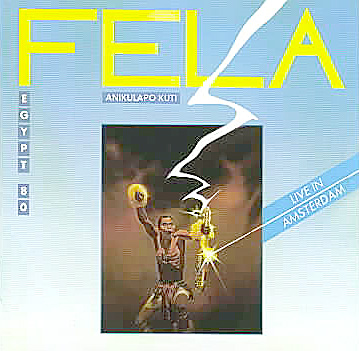 Fela Kuti Live in Amsterdam. Recently re-issued, this mid-1980s live recording of Fela may be the best introduction to the 80-plus CDs worth of music left behind by this giant of world music. Based in Nigeria, Fela gave African pop the drive of western blues, without compromising the music itself. Fela's lyrics are half poetry, half rant, as he lambasts the powers of the world in "Movement of the People" and the immortal "Give Me Shit I Give You Shit." You can find this CD online, or better yet, ask your local store to order it. See below for a full review of Fela's greatest hits.
Cindee Grace Wild Again. A collection of songs recorded by a Unitarian-Universalist singer and congregation. The styles are all over the map: jazz, rap, rock, bluegrass, comedy... The mix might work in a live concert, but it's not the sort of CD you can listen to straight through unless you've got some dramamine handy. I'd say this CD is more of a resource for finding a specific song, and would be useful for church groups. Some of the individual songs might catch on, especially the title cut, "Wild Again." Contact Cindee Grace.
---

Brook
Love Like a Stream
Guitarist-singer-songwriter Brook follows 2004's The Great Blues Sea with a catchy live album recorded at various Bay Area clubs.
Like his first CD, this recording is held together by Brook's versatile and accomplished guitar playing, which runs a gamut from blues to jazz to folk. The live recording enhances the presence of the playing and singing, which is by turns reflective, relaxing, and stirring.
"His Mystery" catches the reflective side of the CD, with Spanish-tinged fingerpicking laying a smoky backdrop for the lyrics:
Darkness, the sound of the unknown
He calls us, His mystery unfolds
His riddles; A fire from deep inside
Rekindles memories of night
Forest and Antler we run with the deer
Fleet as the roebuck, his breath draws us near
"Moon Circle" typifies the jazz-based sound of the CD, with dense layers of chords evoking moonlight. The moody guitar solo, accompanied only by a bass guitar, is especially rich.
The album wouldn't be complete without a bottleneck-blues rendition of "The Great Blues Sea," followed by a similarly blues-based "Earth Circles."
The CD ends with a short version of "My Soul Says So." The rippling guitar harmonies give a new dimension to this Witchcamp favorite. I would have liked a longer version of this little gem.
For listeners wanting a roots-ier feel to their Pagan music, this CD and its predecessor are a great place to start.
Hear samples and get more info on Love Like a Stream and Brook's other releases at www.magicbrook.com.
Reviewed by Bill Dewey
---
John Tyler Garcia
A River Inside
The first sounds heard on John Tyler Garcia's debut CD, "A River Inside" are the chirping of birds and the thick hum and buzzing of life in a tropical rainforest.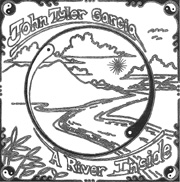 Next, the syncopated polyrythms of several drums and the introduction of several less easily identifiable instruments; a kalimba, doundouns, guiro, and a vibra-slap, to be precise. Lastly comes the earnest voice of Garcia, first in a repeated, wordless refrain, moving then into prose.
This recipe is used throughout the CD to create a journey into the thick of the Amazon, the heights of the Andes, the edges of coastal California, and to a big Carnival party in Bahia, Brazil; all with the guidance of a masterful musician. It's a sublime treat to hear a body of work so clearly and eloquently produced with such complex arrangements.
Indeed, Garcia displays an impressive expertise on a variety of South American traditional and indigenous instruments. This provides for the essence of his panoramic vision of a more peaceful, just, and truly diverse world grounded in spiritual wisdom and ecological integrity.
It is this vision that permeates every aspect of the CD, to the extent that it feels as though Garcia is working a spell and the listener is continuing the spell. As a magical working, this music is a powerful step into a sustainable, richer, and happier world.
Garcia's prose is often explicit in entreating his listeners to follow a different path than that of gold, greed and negative thinking. His message is sweetly conveyed in lyrics that can at times be more literal than lyrical. It is evident in his prose as well as his musicianship and influences that Garcia has spent time in Ecuador and Brazil and has great passion for the people, cultures and environments he has experienced (at times he sings in Spanish and Portuguese as well as English).
It is the sincerity of his emotion that is one of the greatest strengths of this CD. At times his voice seems to be lacking the scope and precision to carry his passion and vision. However, when blended with the vocal harmonies of Denise Castleton, a San Franciso Reclaiming Witch, the tone is imbued with greater depth and maturity. The voices together seem to create a third and greater whole that can hold powerful ideas and carry them to greater heights. There is also the freqent use of the flute and various saxophones played brilliantly by Dave Gibbs that add further playfulness and richness to the textures of voices.
The greatest strength of this project certainly lies in the awesome musicianship and the diversity of styles and forms that arise from this, as well as the beautiful vision that is conveyed in this framework. It's rare to sit down and listen to a CD that includes, as well as the standard guitar and drums, the atabaque, surdu, pandeiro and berimbau (Brazilian percussive instruments), charango, sicuyas, zamponas, toyos, Andean Bombo, chulchus and ocarinas (traditional Andean instruments); to name just a few!
The final track ends with the sound of ocean waves crashing, receding, and crashing again. Somehow it feels like coming home, reflecting after a deep trance, a fitting end to a journey of this magnitude. I recommend this CD as a wonderful treat to the ears as well as to the heart and spirit, and as a meaningful and powerful spell to keep casting!
Reviewed by Root.
---
Fela Kuti
The Best Best of Fela Kuti
"If I can't dance, I don't want to be part of your revolution." - a famous quote from Emma Goldman, but it could just as well have come from Fela Anikulapo Kuti. For over 30 years, he brought fear and consternation to the Nigerian government, and hope and pride to its people, through his music and the political statements he wrapped in it.
So much of what is currently labeled "World Music" shows Fela's influence that it wouldn't be too far from the mark to say that he originated it. By combining the lean funk of James Brown with Nigerian high-life music and jazz, the genre known as Afro-Beat was born, and Fela was its father. By marrying this groove to a strong pro-African stance and an outspoken political temperament, he became a hero to millions in Africa and elsewhere.
"So what about the music?" you ask. Over the course of his career, Fela produced over 70 albums, most of which are out of print. MCA, fortunately, has begun a reissue project that covers many of the highlights of his 70s and 80s output. The Best Best of is a two-CD set of highlights from those releases, chosen by his son Femi Kuti, himself a well-known musician.
The tracks are arranged chronologically, which makes the set an interesting way to follow both the evolution of Fela's music and his political thinking. Some highlights:
"Gentleman" - A statement on African identity, where he mocks those who sought to take on European dress and customs, over a percolating beat and a bright blast of horns and chorus.
"Water No Get Enemy" - One of Fela's most deeply symbolic and lyrical songs, likening the flow of water to the natural flow of human society. The water and the people are what underpin everything, and the song itself underscores this flow with great interplay between the bass, sax, and the rest of the horn section.
"Coffin for Head of State" - A musical eulogy for Fela's mother, who died partially as a result of injuries suffered when the Nigerian Army attacked his compound, the Kalakuta Republic, in 1977. It attacks the army and also the Christian and Muslim leaders in Nigeria, whom he saw as corrupted by wealth and power.
Fela's music, while it has a strong social message, follows Emma Goldman's dictum. It's eminently danceable, and revolutionary both in its stylistic fusions and its politics. It's ultimately about the joy of self-identity, the quest for freedom, and the triumph of human spirit in the face of oppression, and worth repeated listening.
For more information about Fela:
"Fela: King of the Invisible Art" - www.jaybabcock.com/fela.html
Fela Project - www.felaproject.net
Reviewed by Carol Gunby.
---
Moonrise
Songs of Love, Magic and Other Mysteries
Participants in the 2003 Spiral Dance in San Francisco heard the premier of a new/old Goddess-invocation song - DJ Hamouris' "Who is the Goddess," which weaves elements of the traditional "No End to the Circle" into a complex and dynamic arrangement that filled the center of the room with dancing bodies.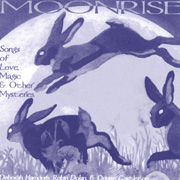 The song opens the first CD by Bay Area trio Moonrise - Robin Dolan, DJ Hamouris, and Denise Castleton - and serves as a metaphor for the album: a blending of the traditional and the unexpected.
The unexpected takes many forms, as if the three singers are exploring where their collaborative efforts might take them. Some paths lead to the future, some will be one-time experiments.
At first glance, this CD resembles Reclaiming's teaching tapes - sparse, well-performed arrangements of classics like "Through All The Worlds Below," "Demeter's Song (I Am the Wealthy One)," and "Barge of Heaven."
These familiar numbers will guarantee Moonrise an audience - which is a blessing, because listeners are in for more than a few surprises.
DJ's vocal on "Crone Song" points toward a possible career as the world's first Pagan Dinner-Jazz Stylist. Accompanied by jazz guitarist Brook Schoenfield, her voice glides and caresses Anodea Judith's one-of-a-kind lyrics.
"The Ash Grove," a delicate acapella duet by Robin and DJ, is a work-stopper - when the song comes on, my fingers refuse to type for at least one verse, not wanting any extraneous sound interfering with the purity of the voices.
Sound like a good CD? Hold on, I've saved the best for last. Rumor has it that Denise wrote "Wartime Lullabye" in the final week before recording. That would be ironic, considering that the song sounds like it's been with us for generations. Deceptively simple words, carried by Denise's haunting voice, bring tears to my eyes.
The CD concludes with a rendition of Catherine Madsen's "My Heretic Heart," an apt song for this trio and one that listeners may find themselves singing in the shower.
The generally warm and simple recording is marred by a few skips and pops. Many of these songs will be re-recorded by Moonrise over the next few years.
No matter. Don't wait till then. This is an album that you'll want to play right now. Over and over.
Contact www.ninshibar.com, or write DJ Hamouris/Moonrise, 2140 Shattuck Ave, PMB 2078, Berkeley, CA 94704. Reviewed by Luke Hauser.
---
Green and Root
Down That Road
Already avowed fans of Green's finely wrought diva folk, we are now fans of Green and Root's latest CD, Down That Road.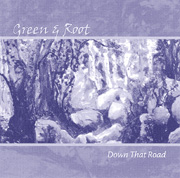 Root, Green's life-partner, joins with seamless alto harmonies, providing back-up vocals for the CD as well as onstage at the release concert. Their partnering on this co-production is masterful and speaks of the marvelous Tao that shines so brightly through this acoustic food for the soul. Luxuriant vocals range effortlessly, yet these songs pack a wallop of brutally clear insight. Green and Root get the balance just right.
"Down That Road," the first cut (the deepest, in a CD that cuts deep) weighs the grief and the blessing of a mother/daughter love brought into sharp focus by death. The pain of loss is tolerable only by the joy of courageous love, the heights achievable by familiarity with the depths. This is intelligent, elegant stuff. The sound quality and production are excellent, which is good because it's getting a lot of play at our house.
The CD features fine local musicians on slide and acoustic guitar, electric bass, and drums, with the occasional wurlitzer for good measure. Green's songs (she writes, sings, and plays guitar) are delicious melodic musings that get under your skin and provide a balm to the soul. A gifted lyricist, Green scoops you gently forward though life passages, inspiring and encouraging as a good friend. "Marrying You" is the theme song (with a great video) for this decade's civil rights battle - the right to queer marriage.
Check out Green and Root's website, www.greenandroot.com, and support these Pagan community gems. Whether singing of the dance between urban and wild, personal and political, or despondent and ecstatic, the Tao of Green and Root's Down That Road is a sweet nectar.
Reviewed by Jamie with IvoryFly. From Cozy Goat Records, (510) 655-5245.
---
Serpentine Music
Best of Pagan Song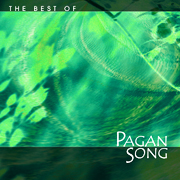 This new compilation CD is aptly named, assuming that what you mean by "Pagan Song" is Neo-Celtic folk music. The songs are undeniably classics, including Charlie Murphy singing "The Burning Times," Catherine Madsen performing "My Heretic Heart," Holly Tannen singing "The Rhyme of the Ancient Matriarch," and Dar Williams' clever holiday song, "The Christians and the Pagans."
If you like acoustic music with a Pagan message, this is a great CD. Look for lots of hand-drums, penny-flutes, and mandolins. The lyrics are finely crafted and cover a wide range of topics, offering history lessons and social theory in the guise of popular music.
My only reservation is the idea that these 16 songs represent the range of Pagan song. They're all acoustic, and almost all melancholy. Are there so few happy Pagan songs worth mentioning? Haven't Pagan songwriters discovered synthesizers, drum machines, or even electric guitars?
I would have named this collection "Best of Acoustic Neo-Celtic Pagan Song." On those terms, this is a first-rate CD.
From www.serpentinemusic.com. Reviewed by Bill Dewey.
---
Jorma Kaukonen
Blue Country Heart
Hot Tuna and Jefferson Airplane guitarist Jorma Kaukonen resurfaced last year with an exquisite country-blues album that sounds like it was recorded on the front porch on a warm afternoon.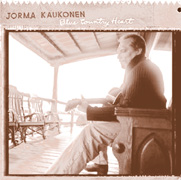 Although he traveled to Nashville to record the album, Kaukonen avoided an "all-star sessions" approach. Instead, he chose a three-person band and recorded the entire CD with the same personnel. Only a guest spot by Béla Fleck alters the line-up.
The result is an hour-long journey of relaxed, thoughtful country-blues. As an acoustic revivalist, Jorma has only one peer, the legendary Doc Watson. But where Doc always seems about to bust out laughing, Jorma injects a melacholy note into traditional music that brings fresh life to old gospel/country/blues tunes.
This CD will appeal to anyone with a taste for acoustic music - no prior interest in country music necessary. Also recommended - Hot Tuna, the group's self-titled first CD, an all-acoustic show recorded live in a Berkeley coffeehouse in 1969.
Reviewed by Chester Burnett, Jr.
---
Want to submit a review? Email us!
---
Like this feature? Please subscribe or donate today! - RQ needs your support to survive!
Return to RQ Home Page