Learn the tunes for Reclaimings' best-loved and most-sung chants - simple recordings of chants and songs from witchcamps and Elements of Magic classes.
---
Witchcamp Chantbook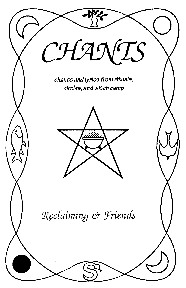 produced by Reclaiming Quarterly
The Reclaiming Chantbook, created in the mid-1990s, is now available online.
You'll also want to download the More Chants file, which includes post-1996 chants. Both files available as PDFs, or as searchable text-files.
Tunes? Click here to hear recordings of dozens of these chants.
Chantbooks and Teaching Recordings - free downloads
Send us your chants!
If you have favorite Witchcamp and Reclaiming chants that aren't in this collection, contact us!


---