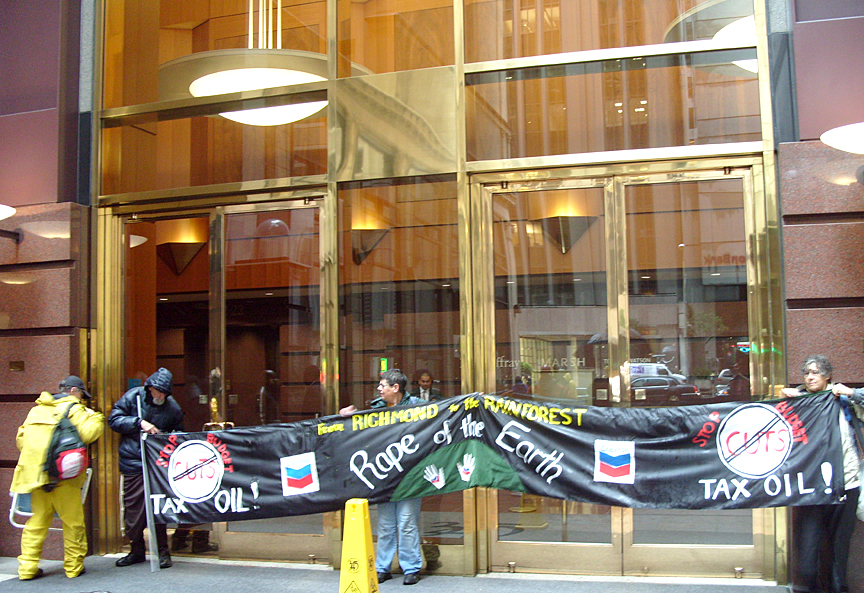 Related Activist News
Occupy Wall Street West - More January 20 actions
Revolution 2011 - Reports from Occupy actions
Solstice in the Streets Videos
Dia de los Muertos - Day of the Dead
Teen Earth Magic - Youth Earth Activism Retreat
---
Pagan Cluster at Occupy Wall Street West
January 20, 2012 - San Francisco
Bay Area Pagan Cluster activists joined the January 20, 2012 Occupy Wall Street West action and helped shut down key sites around the San Francisco financial district.
The Pagan Cluster and friends focused on local Chevron offices at 345 California Street, creating a banner that exactly blocked the office doors.
For RQ reports and photos of Occupy actions in New York City, Oakland, DC, San Francisco, and more, click here.
To contact the Pagan Cluster, email quarterly@reclaiming.org
---
Pagan Cluster photos from Chevron Action - Occupy Wall Street West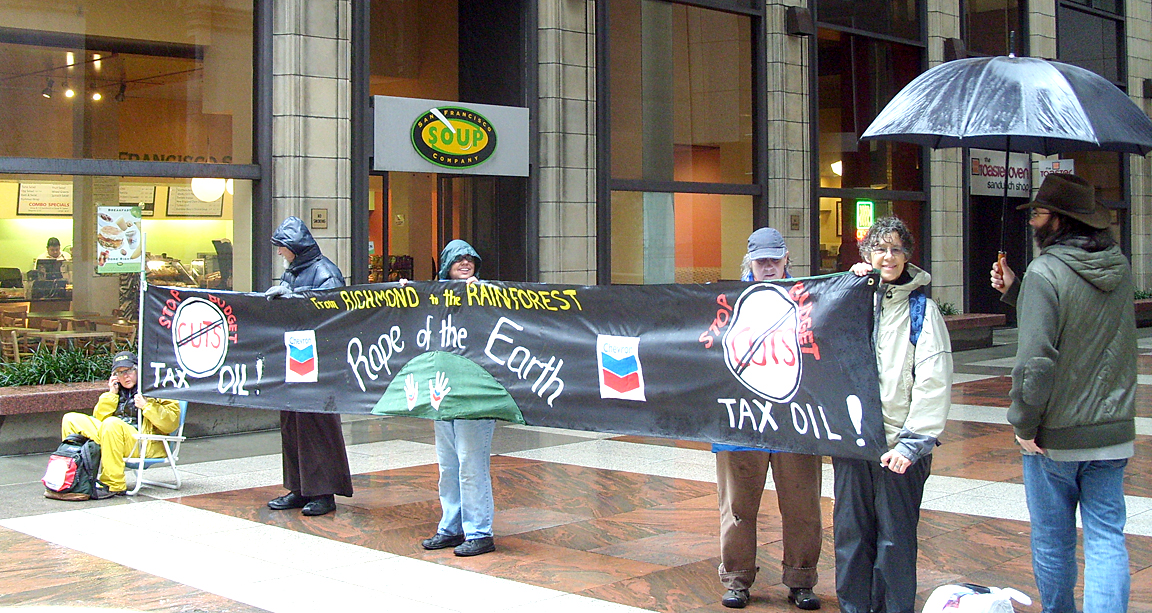 Pagan Cluster activists created a 15-foot banner for the action. Initially, the cluster gathered out near the sidewalk and leafletted passersby.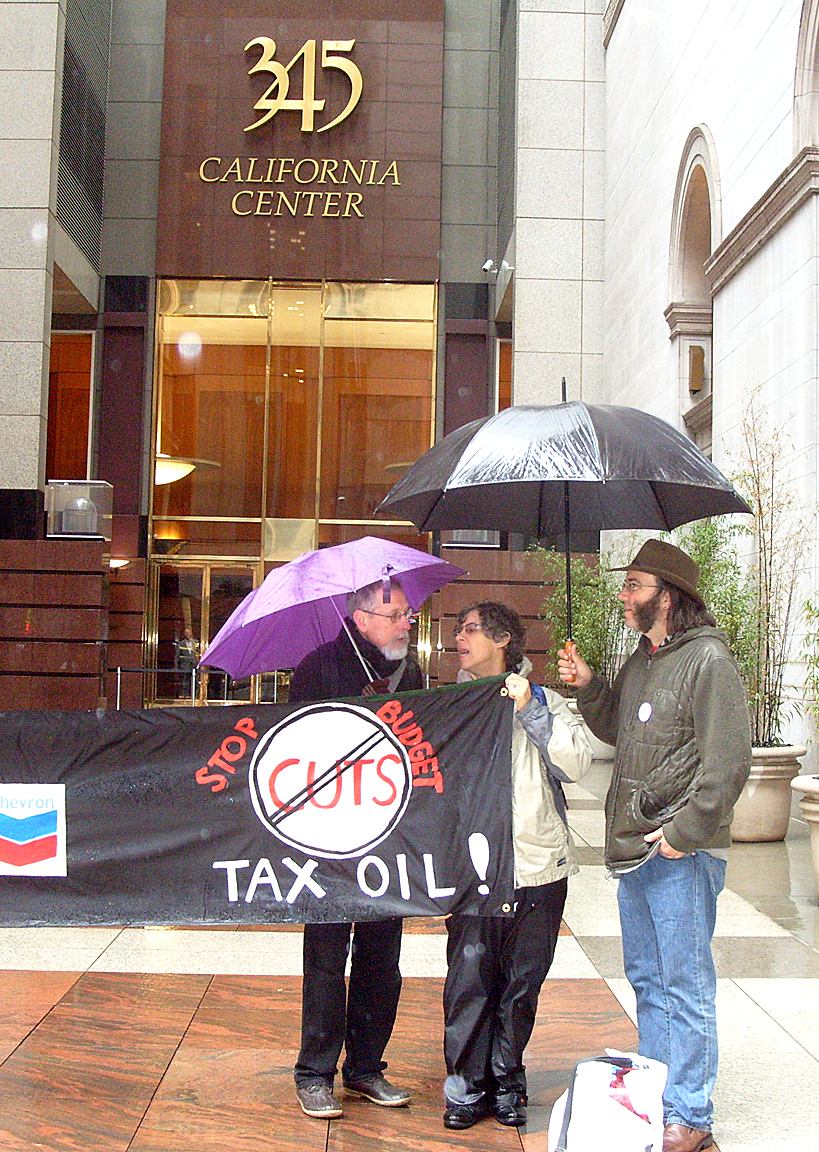 Friends check in.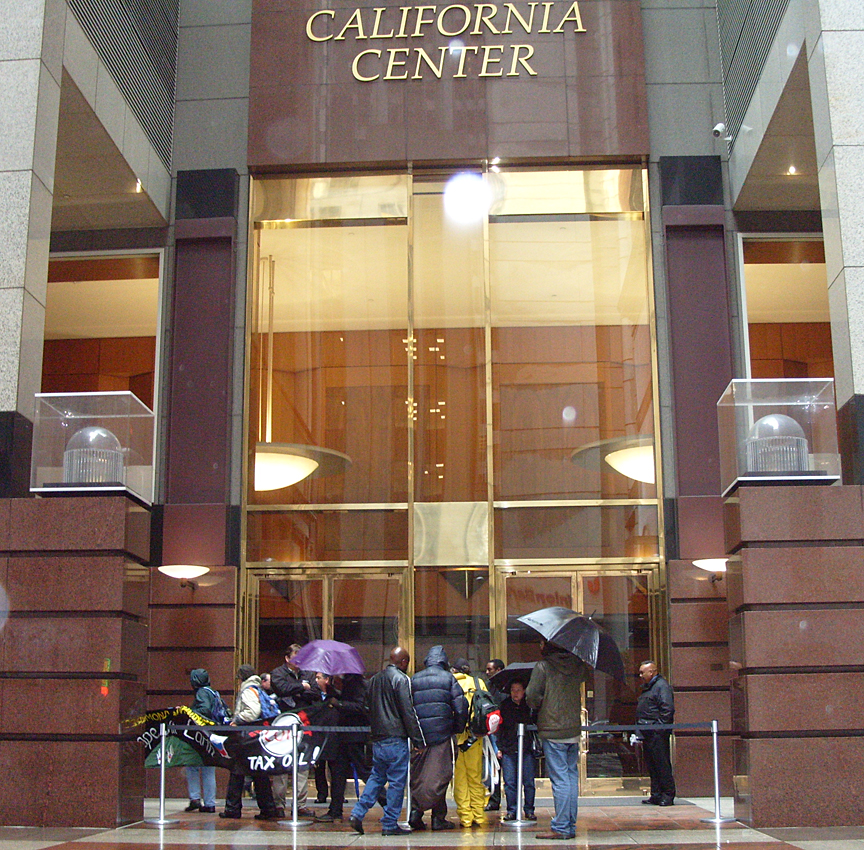 On a signal, the cluster moved from the sidewalk to block the front door to the office building, which houses Chevron and other financial district pffices.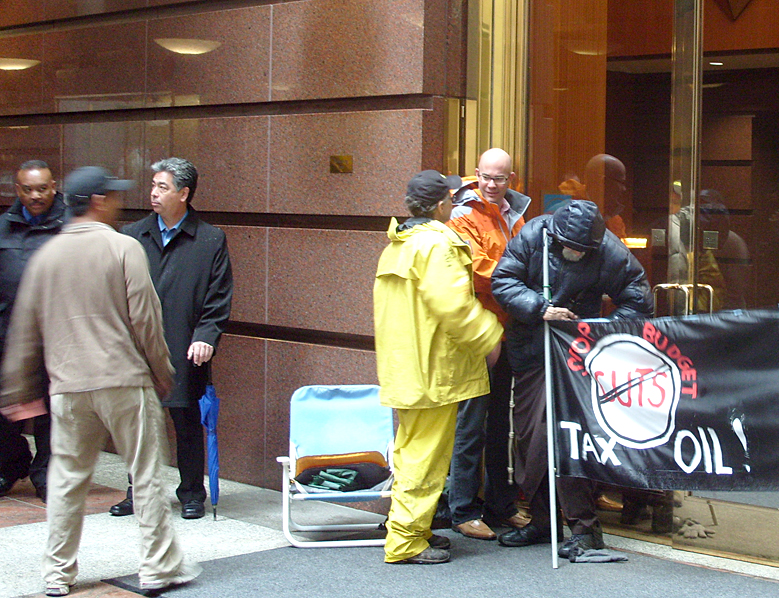 The blockaders quickly established their presence.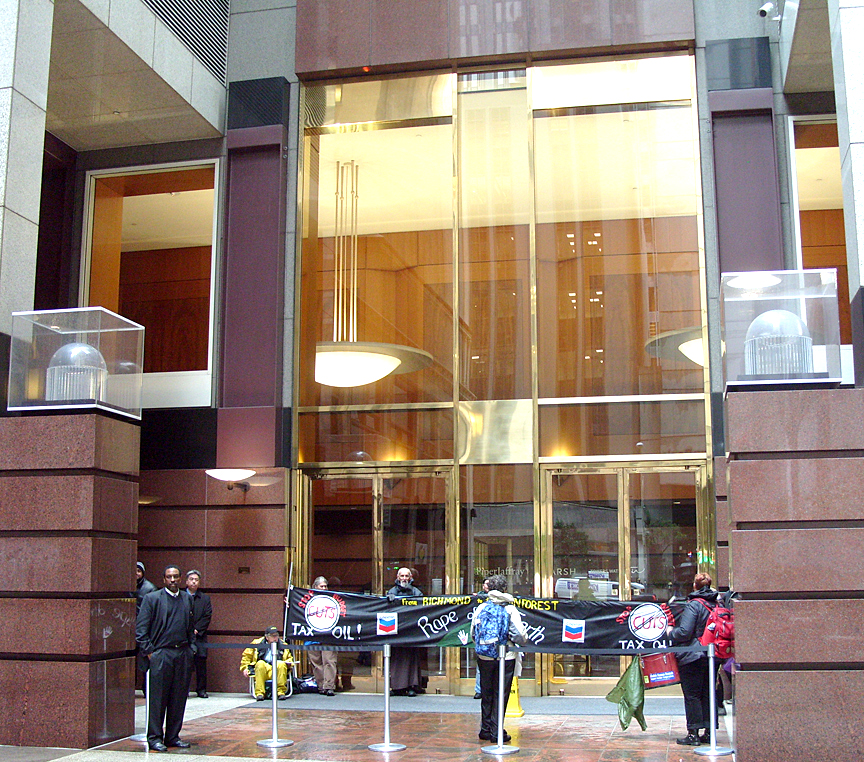 Once in place, the banner blocked the four front doors.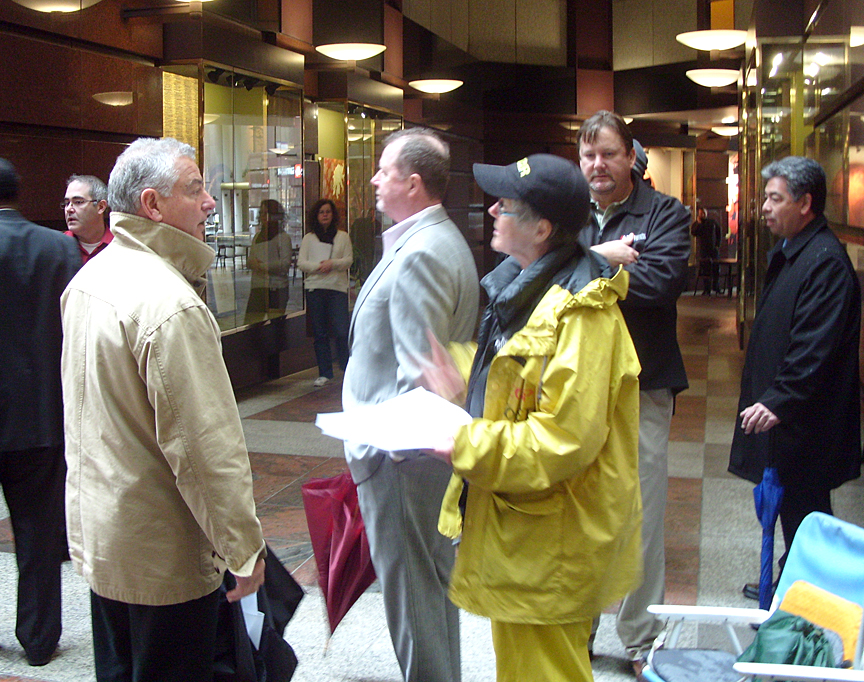 Conversations with Chevron employees and building security occasionally got heated, but security declined to call police, who in any case had their hands full at other sites.
Pagan Cluster activists protested at Chevron for about an hour, then rejoined the main protest. No one was arrested at the Pagan Cluster action.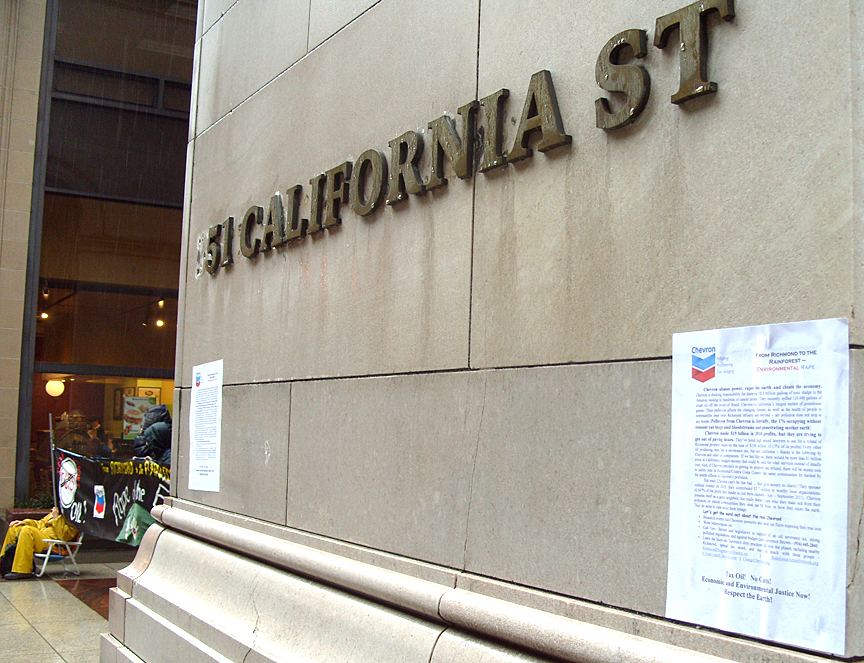 Strategically wheat-pasted leaflets carried details of the action. Note banner in background.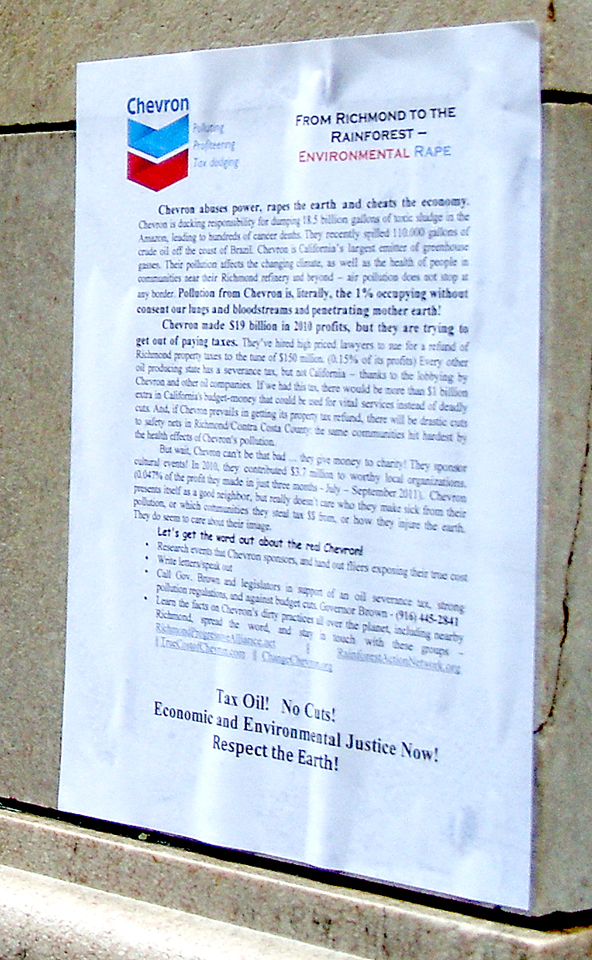 Wheat-pasted leaflets.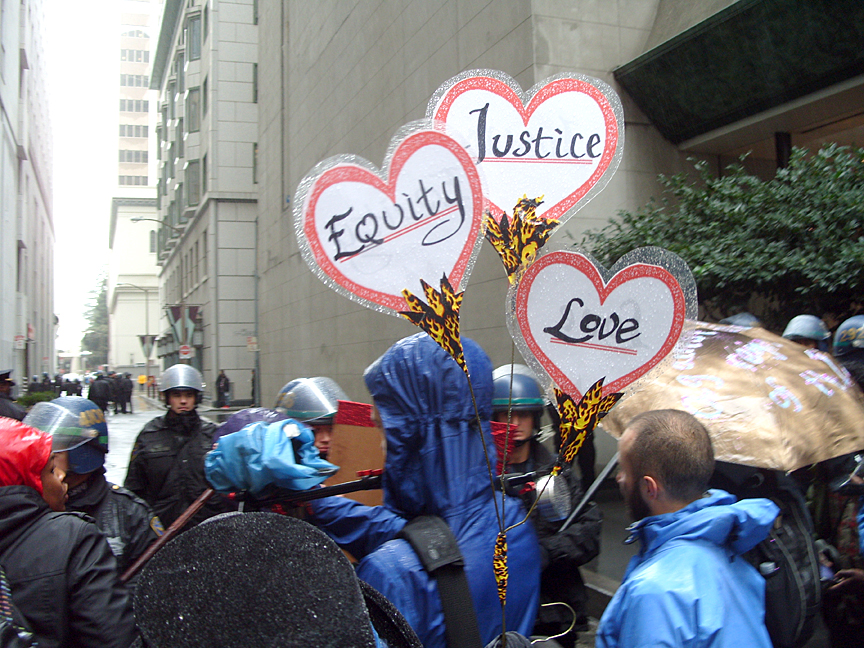 Equity - Justice - Love. Sign created by Pagan Cluster activist.
---
Please donate to RQ!
---
Luke Hauser
(aka George Franklin) is a freelance parajournalist in the service of the Goddess and planetary revolution. His photo-filled book Direct Action is an historical novel about Bay Area protests.
Photos ©2012 by RQ. Please do not copy, reproduce, fold, spindle, mutilate, or otherwise use them without written permission (which we are usually glad to offer). Thanks! Email quarterly@reclaiming.org
---