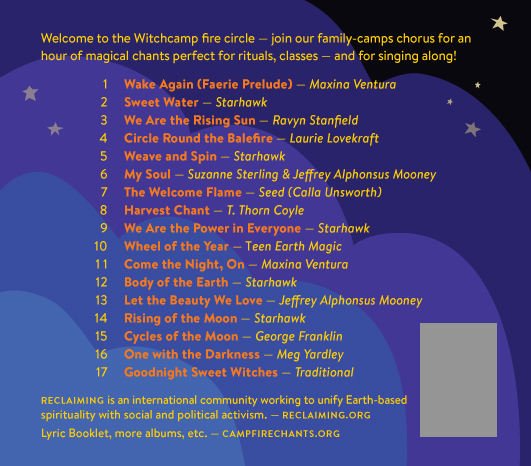 Campfire Chants: Songs for the Earth
Classic Chants from Reclaiming
Seventeen songs, including five classic chants written by Starhawk, plus songs by T. Thorn Coyle, Suzanne Sterling, Laurie Lovekraft, and more - sung by a mixed chorus from our family camps accompanied by conga, guitar, flute, fiddle, clarinet - and even a ukelele!
Hear the album on youtube, spotify, etc - or download it - see links at top of this page
Album Supports Reclaiming Family Camps
Our family-camps chorus (folks from Redwood Magic and Witchlets camps) are featured on our new Reclaiming album, "Campfire Chants."
Proceeds of the new album support Redwood Magic and Reclaiming family and youth camps, and lay the groundwork for more recordings!
---
Wake Again (Faerie Prelude) - by Maxina Ventura
Sweet Water - by Starhawk
We Are the Rising Sun - by Ravyn Stanfield
Circle Round the Balefire - by Laurie Lovekraft
Weave and Spin - by Starhawk
My Soul - by Suzanne Sterling and Jeffrey Alphonsus Mooney
The Welcome Flame (Spark Blaze Ember Ash) - by Seed (Calla Unsworth)
Harvest Chant (Our Hands Will Work) - by T. Thorn Coyle
We Are the Power in Everyone - by Starhawk
Wheel of the Year - by Teen Earth Magic
Come The Night, On - by Maxina Ventura
We Are of the Body of the Earth - by Starhawk
Let the Beauty We Love - by Jeffrey Alphonsus Mooney
Rising of the Moon - by Starhawk
Cycles of the Moon - by George Franklin
One With the Darkness - by Meg Yardley
Goodnight Sweet Witches - Traditional