Now available from iTunes and CD Baby
Reclaiming Music CDs
available from RQ
click here to see details, hear samples, and order
Reclaiming has issued three CDs of music from rituals and classes. Many of these chants and songs are now familiar to Pagans around the globe.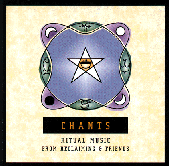 Chants: Ritual Music - this album features chants taught through Reclaiming's classes and rituals. 21 great chants in all, performed by a small chorus with some hand drumming. All lyrics included.
Let It Begin Now: Music from the Spiral Dance - these 11 songs and chants from Reclaiming's Spiral Dance ritual are played in a variety of musical styles, from a capella to full choral arrangements with complex instrumentals.
Second Chants: More Ritual Music - this versatile recording has many wonderful new chants and songs from Reclaiming's classes, Witchcamps, and rituals. All lyrics included.
Now available from iTunes and CD Baby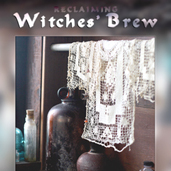 Witches' Brew
Songs and Chants from the Reclaiming Cauldron
Click cover for more info, music samples, or to order
This incredible new compilation features recent songs by a dozen Reclaiming teachers and musicians. A virtual "greatest hits" collection, this CD is a musical journey through Reclaiming's many facets. Included are chants you can use in classes and rituals, meditational instrumentals, and beautiful songs field-tested at Witchcamps and rituals. All lyrics included.
Among the artists are:
Beverly Frederick
Brook
Crow
Danielle Rosa
David Miller & the Honky Tonk Communists
Evelie
Evergreen Erb
Green & Root
Jeffrey Alphonsus Mooney
Moonrise
Skyclad
Suzanne Sterling
T. Thorn Coyle